A successful Google Ads campaign is like a play: the audience must feel attracted by the performance – and this only works if they can empathize with the action and identify with the main role. How well do the actors bring the piece's core message to the stage? Are the sound, lighting and sequence of scenes correct? Are there emotions in the audience that motivate them to stand ovations at the end of the theater performance? A similar pattern is used to create Google Ads text ads:Only the right text will make the audience click. So that your viewers will applaud and your Google Ads campaign will be a complete success, we have put together the best tips from our Google Ads experts for successful ad copy.
The anatomy of good Google Ads ad copy:
The goal of Google Ads text ads in the search network is to get your website known to as many Internet users as possible and to generate the most relevant clicks on your ads. First of all, we would like to introduce you to the requirements Google sets and how a good ad is structured:
The standard format of a Google Ads ad with a so-called ETA, an extended text ad, consists of three headlines, two descriptions of up to 90 characters and the URL to your landing page.
Advertisement title : Up to 30 characters (including spaces and special characters) are possible for each advertisement title. Use the first headline for the top keyword and the second headline for promotional reinforcement . The third headline is optional because it is not always used by the Google Ads system. Here we recommend using the brand name and / or adding further arguments.
URL path: The displayed domain consists of the final URL and the text in the optional "Path" fields. The path displayed to show the user in advance what type of site content behind the Google Ads ad hides. The path text does not necessarily have to match the content or the actual URL.
Description: You have the greatest leeway with a maximum of 90 characters in the description of the advertisement. You should use the first line of text to make your offer as inviting and direct as possible . Here you can highlight product information and customer benefits and encourage users to click with a clear call-to-action. The second line below is again optional. Here you have the opportunity to place further relevant information about your offer.
Google Ads ad copy
If possible, make full use of the number of characters in the ad texts and avoid overly general wording. Your messages must be formulated clearly and in a user-oriented manner. But resist the temptation to "squeeze" too many keywords into your ad at once. Also, be aware that Google has editorial guidelines that must be followed when creating ad copy. The capitalization of individual words such as B. "Access NOW!" Or repeating words such as B. "Sale Sale Sale" is not permitted. Google has published a detailed list of all the ad guidelines you should follow.
How to manage and segment campaigns successfully
Segmentation is an important aspect – on the one hand to keep an overview, on the other hand to use budgets effectively and increase relevance. The segments tab in the reporting area of ​​Google Ads enables you to segment according to various dimensions and to get a differentiated view of the campaign's performance.
The segmentation is possible according to various criteria (e.g. regional, thematic, according to advertising media, end devices, etc.) and varies / depends from company to company or the goals pursued. You can see how an Ads account is structured in the following illustration.
How to encourage the user to click with good Google Ads ad texts
Selling is the big goal that you shouldn't lose sight of when dealing with ad copy. Here's how to get your Google Ads ad going in four easy steps and how to write your ad copy correctly:
Step 1 – Unique Selling Points:
Think about what makes you special and what sets you apart from others. What are your USPs or your unique selling points? Highlight them and showcase them in your ads.
Step 2 – Keywords:
Under which important keywords or key words would you like to be found on the net for your potential new customers? Use one or more of these keywords in your ad text to show that your Google Ads ad is relevant to the search query. Users pay particular attention to the headline, so you should include the search terms here in order to convey certain information about your products, services or offers (don't forget the call-to-action – see step 4).
Also note: the more relevant your ad, the higher the quality score. According to Google, the quality score is an estimate of the quality of your ads, keywords and landing pages. The higher this number is, the better your ad will be rated by Google. High-quality ads benefit from a higher click rate or click-through rate (CTR) and better ad position . In most cases, this will lower the average click prices (CPCs) and save advertising costs.
Step 3 – Matching the ad and landing page:
Does the content of your ad match the landing page? Are the users informed? Are the advertised products / services / campaigns immediately apparent from the ad on the landing page? Does the user feel confirmed by clicking on your ad? Does your landing page provide enough information? The coordination of ads and landing pages is very important, otherwise the user will leave your page immediately.
Step 4 – Call-to-Action:
Have you successfully implemented steps 1 to 3? Then you encourage your potential prospect to take action and unconsciously motivate them to take the next step on the target page / landing page. What do you offer? How can you be reached? Use clear calls-to-action such as "buy now" or "give us a call!".
Last but not least, an important tip: Pay attention to spelling and grammar! Because the quality of the advertisements is very important for the first appearance and first impression on potential customers. Even small spelling mistakes can make you feel uncomfortable.
Google Ads: General
1. Address user needs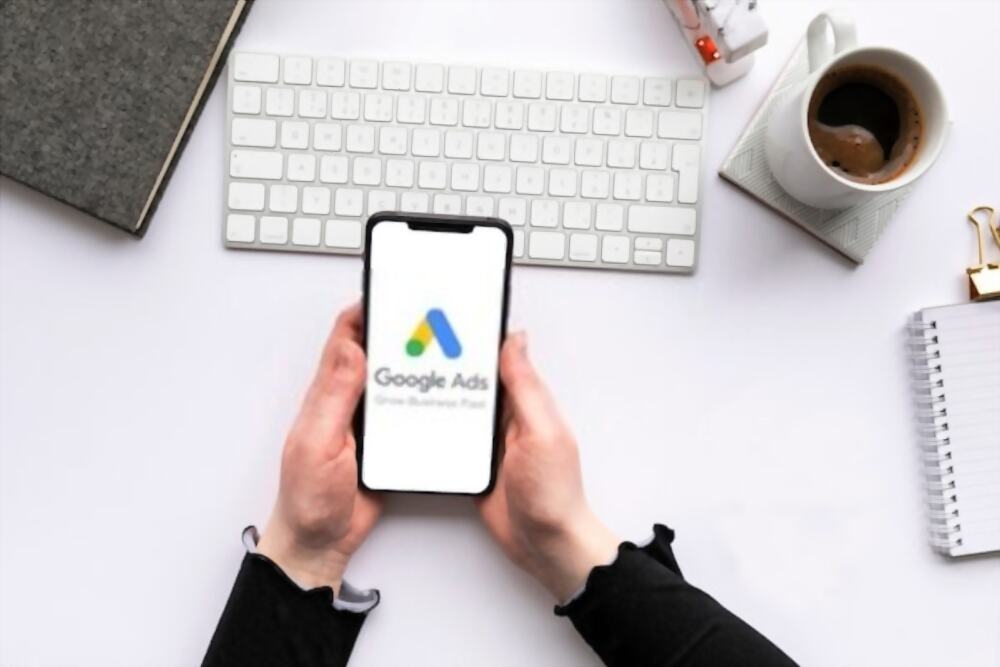 Customers want to be understood. However, often there is a lot of focus on the search query when creating an ad. The actual added value for the user that the product offers are quickly forgotten. It is important to focus on the benefits for the customer and his needs.
Example:
A user is looking for hiking boots. His search intention is probably based on a planned hike where he wants to get to his destination as comfortably as possible. When designing advertisements, it's not just about putting the features of the product in the foreground, but also about taking up the actual benefits for the customer so that they feel directly addressed.
Product features of the hiking boots:
Optimal fit
Perfect pressure distribution
Elastic-springy
Water resistant
Benefits for the customer:
Comfortable to carry
No painful areas
No wet feet
Think carefully about the intention behind the search query and show your potential customers in the ad text what they can achieve with your product.
2. Simulate dialogues by asking questions
If you formulate questions in your ad texts, you can simulate a kind of dialogue and address the potential customer directly. The prospect will answer the question in their head and mentally interact with your ad. In addition, the search query entered by the user is shown in bold in the ad text if it can be found in the ad text or in the URL.
3. Emotional address
If you believe brain research, 90% of our decisions are made emotionally . When the emotional brain says "yes" to a potential supplier, nothing stands in the way of making a purchase. Often a potential customer is interested in a product or service because he wants to fix a grievance or to make his life easier. In order to address the user emotionally within your Google Ads ad, you can encourage them in their current situation.
Regional companies
The advertising text is particularly important for local and regional campaigns. Your potential customers must see at a glance that the offer is regional. Emphasize the advantage of regionality, the accessibility and availability of your products and services in your ads.
1. Location expansion
Of the Google Ads ad extensions, location extensions are the most important for regional campaigns. These increase the visibility of the ad significantly: The user receives location-related information such as an address, a map, the distance to your branch and other information, e.g. B. Google reviews, displayed. A Google MyBusiness account is required for location extensions.
2. Call extension
By adding a phone number, prospects can contact you directly from the ad. You can also flexibly control when a telephone number is played. For example, you can specify that the call extension is only played Monday through Friday between 9:00 a.m. and 5:00 p.m., during your main business hours.
3. Extension with additional information
By adding additional information to your ad, you have the option of adding a line to your ad text. The aim behind this is to provide the user with additional arguments why they should click on your ad or buy from you. Here you can e.g. B. specify that you offer a fixed price guarantee or advise your customers individually.
Google Ads: E-commerce
In e-commerce, paid search with Google Ads is a solid pillar in online marketing, because almost nowhere is it easier to quickly build up a wide range and generate traffic. If you want to use Google Ads for your e-commerce shop, the following tips can be particularly helpful for you:
1. Extension of offer and price
With the offer and price expansion, the offer of your shop is presented in more detail. In this way, you can give your prospective customers an initial insight into the products and services of your company. Each price extension is coupled with a link. This results in a very attractive possibility for your potential customers to get to the product with just one click.
2. Extension with additional information
The extension with additional information is also very useful in e-commerce. This is because you can use it to describe your online shop more precisely, arouse customer interest and draw attention to offers or USPs. Possible examples of extensions with additional information specifically for e-commerce can be free shipping, 24h customer service, size advice or a special discount campaign.
3. Get attention with numbers
Google Ads ads can stand out visually and attract attention if you incorporate numbers into your ad design . The human eye finds numbers more interesting than just plain text.
If you want to mention prices, it is a good idea to research competitor prices beforehand. It is only worth advertising if the price mentioned is "cheap" compared to the competition. You can also advertise with temporary discounts or use the principle of scarcity . When a bargain is only available for a short time, the fear of missing out increases in people's minds.
4. Google Ads stand out with emojis
To date, there is no official statement from Google about the use of emojis in Google AdWords campaigns. Nevertheless, emojis can be found more and more in the ad texts of larger companies.
Google Ads: Lead acquisition
Lead acquisition campaigns are used to get visitors to fill out forms on your website. Focusing on a Google Ads lead campaign is a great way to drive traffic, gain valuable insight into and connect with your prospects – regardless of what industry you're in.
1. Snipped extension
The so-called snipped extension is also another, non-clickable line below the text ads. The purpose of this is to add further information on products or services in the form of a title and a list. Certain features of advertised products can thereby be highlighted even more and increase the relevance of the ad. For example, the snippet title "Services" is suitable for the B2B area.
2. Sitelink extension
Sitelink extensions are supplementary links that appear below the ad text so that you can direct potential customers to other sub-pages of your website . To use sitelinks, you have to enter a target page and a link text. Depending on the competition and advertising space, Google plays two to eight sitelinks.
3. Lead form extension
Lead expansion is a new way of attracting customers. Its aim is to enter customer data directly via a form in the search ad. This direct form of lead generation differs significantly from previous extensions for search ads. The leads collected in this way can be downloaded from Google Ads in the form of a CSV file and then managed.
Even better performance for Google Ads with A / B tests
If you want to optimize your Google Ads ads, you cannot avoid so-called A / B tests. At least two versions of ads are created to compare the performance of the different ads after a certain period of time. The ad with the better performance then competes against a new version and is compared again. Over time, the quality of the ads can improve significantly. Sometimes it is enough to exchange a word and the campaign performance improves suddenly.
Conclusion:
Google Ads has great potential to reach your target audience at the right time and with the right message. There are many different things you can do to make your Google Ads ad copy more efficient. Be brief, communicate your unique selling points and make sure you choose the right keywords. An important aspect that needs to be taken into account is targeting segmentation. Think about the goals you want to achieve and see how you can use Google Ads to achieve them.
The pure advertisement text is not the end of the journey. The Google ad leads the user to a landing page. A lot depends on this landing page, because this is where the potential customer will decide whether to give you – or another provider – their money. The landing page must reflect the content of your ad as specifically as possible and guide the user. Don't make any compromises at this point!
Do you have any questions or would you prefer to rely on a Google Ads expert with extensive experience in a variety of projects? We would be happy to help you get the most out of your Google Ads online presence. Simply contact us using our contact form !