Certified SEA agency
We boost your traffic and your sales with paid ads on all relevant channels. Your official Google Premium partner since 2015.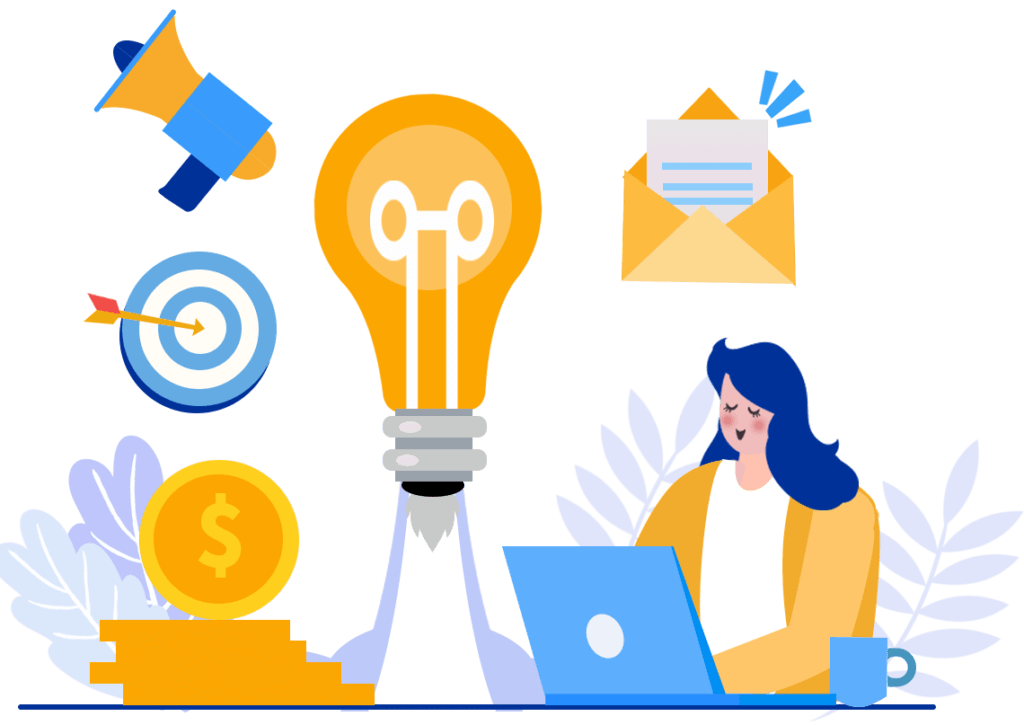 Search engine advertising in the best of hands
Increase the sales figures of your business with Search Ads - with your SPOTLIGHTSEO professionals for the creation and execution of online advertising campaigns.
SEA experts

with many years of experience in online marketing
The SEA team at SPOTLIGHTSEO ensures that you can effectively reach your target group and use your budget optimally.
As a certified Google Premier partner  (one of the few in INDIA), it is possible for us to work very closely with Google. As a result, we have been offering our customers first-class service in the field of search engine advertising for many years.
SEA at SPOTLIGHTSEO: ​​sound advice and optimization
With us by your side, you will increase your reach with precisely those users who specifically make search queries that match your product or service. With SEA measures that are based on the user intent, you can increase your traffic and at the same time sustainably minimize wastage.  SPOTLIGHTSEO want to get to know your projects and goals in order to offer you only those SEA services that make sense for you - regardless of whether you are a regional or global provider.
Tell Us About Your Project
Would you like to exhaust your online marketing potential? We look forward to your inquiry!
Our SEA competencies at a glance
We are "specialized" in all relevant types of online advertisements. To find out more, simply use the tabs to jump to the specialization of your choice!
SPOTLIGHT - your certified Google Premier partner
Google Premier Partnership

– Services in all segments
As befits a certified Google AdWords agency, we have many years of experience and in-depth expertise in all five specializations that the 
status as a Google Premier partner
 includes. With several certified professionals for all areas, we can advise you individually on the entire portfolio of AdWords (or Google Ads) and implement needs-based campaigns. Would you like to find out more about our individual
Google Ads
awards? You can find detailed information in the next section – and the official information on the individual specializations can be found at google.com/partners/ !
Search Ads
ADVERTISING

IN THE ORGANIC GOOGLE SEARCH
Regular search ads appear above or below the Google search results. There your advertising will attract a lot of attention from potential customers. We are very familiar with the current trends and best practices for this "traditional" form of SEA campaigns – this includes the creation, success measurement and optimization of your campaigns. We can tailor the design of your advertisement precisely to your goals and budget.
Mobile Ads
PAID ADVERTISING

IN THE MOBILE SECTOR
More and more users in India are using the Internet on the go; It is therefore not surprising that advertising for mobile devices is one of the most important components of online marketing. The extremely dynamic advertising strategy of mobile advertising requires a high level of specialist knowledge – it's good that you have us! With the "mobile ads specialization" in hand, we are your ideal partner for all ad formats, bid settings and for monitoring your mobile advertising campaigns!
Video Ads
VIDEO ADS

– TRUEVIEW / BUMPER / OUT-STREAM
Video content is officially one of the "top topics" of our Internet era and will become even more popular in times of mobile information searches. With our certificate-winning know-how in the field of video advertising, we understand how to implement target group-relevant video campaigns.

For example for YouTube. In concrete terms, this means: You benefit from increased brand visibility and reach in order to draw the attention of interested users to your products or services.
Display Ads
ADVERTISING ON GOOGLE

DISPLAY NETWORK
Display Ads are a versatile format: the text, image, video or interactive ads appear on the appropriate websites across the Google display network. As an SEA agency with Google Premier partner status, we have in-depth specialist knowledge of the various placement options in order to achieve the branding goals of our customers with display advertising and to use each individual ad format profitably for every task.
Shopping Ads
GOOGLE SHOPPING

AS AN ADVERTISING CHANNEL
Google Shopping campaigns are a tried and tested solution for all retailers who want to present their products to potential buyers on the web in an attractive way. Shopping ads generate a particularly large number of high-quality leads through further information on the advertised product (such as price, shop and item photo). Thanks to Google Shopping specialization, our SEA experts have the best prerequisites for creating your Merchant Center account as well as for placing and managing your shopping ads.
In the past: 100% AdWords agency – today:

100% agency for Google Ads
The undisputed most successful SEA provider has always been Google with its advertising service Google AdWords – but this was 
renamed Google Ads in July 2018
 . The Google tools "AdSense" and "Google Shopping" are now also officially running under the new 
Google Ads
 platform , which was recently expanded to include the "Smart Campaigns" campaign type. With the rebranding, the search engine giant wants to simplify access and management of the various services. However, the merger has not changed anything in terms of the many options and user-friendly functions of the individual services.
In the past: 100% premium SME partner – today:

100% premier partner
For many years we have been advising customers from various industries on the subject of online advertising and developing tailor-made SEA campaigns on a professional level. The high level of our SEA service has been proven: from 2015 to 2016. We have been the proud bearer of the highest currently available title Google Premier Partner – we have  compiled all the important information about our Google AdWords partnerships for you on our  Premier Partner information page .
But we can do the same:

advertising

via Bing and Yahoo
Although Google is by far the most popular search engine in India, with the right strategy you can also attract a large number of users via the search engines Google and Yahoo . Therefore, we do not necessarily (only) maintain an AdWords account for you. As a holistic SEA agency, we ensure that your advertisements are placed in all relevant search engines and their extensive networks. Bing Ads can, for example, be worthwhile if there are far lower click costs for high-turnover keywords than for the market leader. Speaking of which: Google's leading position in India is virtually cemented by a market share of over 90 percent. Google.in thus remains the most important medium for web search at all – and thus for the associated online advertising. For this reason, our professionals have specialized primarily in placing target group-specific advertisements with the Google Ads platform.
Arguments for a professional SEA optimization
What can a competent SEA service provider do that you would not have "managed to do yourself" in the end anyway? There are countless details to consider when configuring and evaluating the tracking data, just as an example; a job that our SEA specialists do for you on the one hand – and on the other hand do it for you so that your campaign leads to ideal results.
Five good reasons for external support in the area of ​​

CPC marketing

:
Assuming an appropriate configuration, your Google ads appear not only in the main search results, but also in the entire "search network". The same includes Google's extra services such as:

 

1) Google shopping

2) Google Maps (including Google Maps App)

3) Google play

On top of that, there are countless addresses of Google search network partners. These are external providers who have integrated Google Ads on their pages (mostly in the site's own search). The advantage of a campaign expansion across the entire search network is obvious: Your reach is expanded in this way at mostly favorable conditions.

It's generally one of the greatest assets of online advertising. But in the area of ​​search advertising, it can be implemented particularly effectively: targeting users. If you want to operate ad targeting successfully, you first need – as much user data as possible! In the beginning, general knowledge about your target group helps, but once a campaign has started, it should be readjusted and fine-tuned according to typical user behavior. Your Google Ads account already comes with several interesting reports; Examples of this are basic reports on search terms, the breakdown of individual user whereabouts or even tracking of the customer journey. If external analysis tools such as Google Analytics , luckyorange or Inspectlet are added, more and more precise demographic and geographical benchmarks can be determined. Those who know how to incorporate the crucial user data when setting up their campaigns increasingly contain the risk of misplacement. In other words: You don't just happen to present ads to an unfiltered mass of web users. Rather, you show the right people exactly the right ads – at the right time, in the right place!

Remarketing is a special form of online advertising. Here, advertisements are placed with regard to user data that has already been collected in order to get in contact with former website visitors. Search Ads for remarketing differ from one another depending on user behavior: For visitors who have already converted, additional products are suitable for the articles they have ordered; a visitor who canceled the purchase at short notice can possibly still be won as a customer with targeted discount campaigns.

Imagine the following: You are running ten ads through Google Ads, each one optimized for different keywords. One ad often leads to a product purchase, while the other nine generate clicks but no conversions. Are nine of the ten advertisements wasted? Not necessarily! It is quite possible that a user clicks several ads before he becomes a paying customer because he wants to get an idea of ​​your company and your offer (or because your remarketing strategy is successful). That would mean that several advertisements – possibly also on different end devices – serve as "touchpoints" in the customer journey and therefore have to be viewed as conversion-relevant to a certain extent. Reports and options for dynamic attribution make these complex relationships between ads more transparent. There are attribution models such as "first click", "position-based", "linear" or "data-driven", which individually depict which ads have contributed to the conversion and to what extent. On the one hand, this allows decisive conclusions to be drawn about the budget distribution. On the other hand, the attributions influence automated bid strategies. Dynamic attribution therefore has a monetary value: You recognize which advertisements are the most important points of contact for your customers and can consciously adjust your bids accordingly.

The main advantage of an expertly set up Google Ads campaign is the ability to accurately measure the success rate . Using their own Google Ads account – in conjunction with Google Analytics – entrepreneurs can read figures on conversion rate, visitor behavior and the amount of their advertising budget down to the smallest detail. On the basis of this transparent data, advertisements can be optimized in such a way that they further approximate the user's intention. Not only the content itself, but also keywords can be added or canceled.
In a nutshell: your SEA agency
Why you should choose us as an

SEA service provider?
As a former Google AdWords Premium SME partner and current Google Premier Partner , we always use the latest methods for every SEA optimization. In this way, we ensure that you always benefit from an exclusive and high-performance service that brings the significant advantages of search ads to your business. With holistic and tailor-made concepts that fit your corporate goals, we increase the click-through rate (CTR) of your ad (s). Always with the clear aim of noticeably improving your return on investment (ROI). At the same time, we ensure the optimal cost distribution of your advertising budget in order to keep the cost per action (CPA) as low as possible. With a strong team of experienced, certified experts for all SEA areas and over ten years of experience in search engine marketing, we can also adapt quickly and professionally to your needs and goals. As part of a holistic marketing concept, we are happy to combine the latest search engine optimization measures with your SEA campaign in order to exploit the synergetic effect of SEA and SEO profitably for you. We develop the right marketing strategy for you in order to perfectly coordinate both paths!