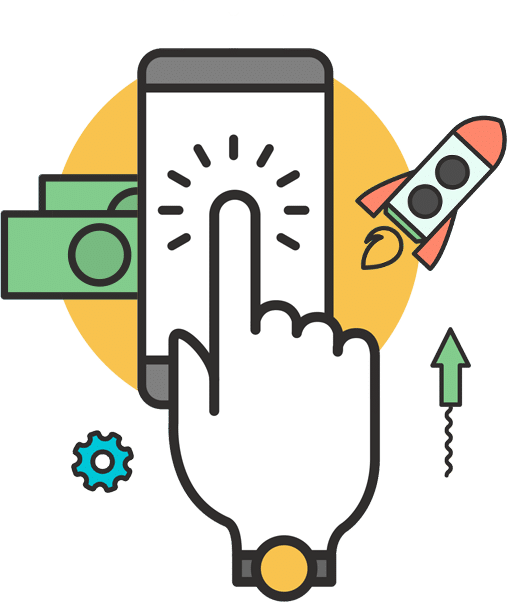 SPOTLIGHTSEO - Search Engine Advertising
how it works, knowledge and tips
The digital age has changed the buying behavior of potential customers enormously. Search engines like Google or Bing are the first point of contact nowadays when it comes to an intention to buy or to use a service. As a web operator, it is essential to present yourself as a competent contact person as early as possible and clearly.
Search engine advertising is the second major discipline of search engine marketing alongside search engine optimization. Its main goal is to attract the attention of web users and to encourage them to convert in a targeted manner.
We already have a general definition of SEA. But how exactly does advertising work with Google Ads (formerly AdWords), Bing and Co.? In the following, we answer the most important questions about SEA.
General basics of

Search Engine Advertising (SEA)
Regardless of which provider you want to place online advertising with – whether on Google, Yahoo! or Bing: The most important part of the SEA area is so-called keyword advertising. Here, capital is invested for search terms related to a specific product or service.
The ads are then designed based on the selected keys. You can also target AdWords advertisements specifically to searchers in certain countries, regions or cities.
If a user makes a query via the search engine that contains your keyword or is thematically similar, your advertising can be displayed directly above or below the search engine results (SERPs) . In order to visually highlight the ads, the ads are grouped into blocks on the Google search engine:
Thanks to the close focus on specific search terms, wastage is reduced to a minimum. In other words: with your advertising, you will reach precisely those Internet users who are really interested in your content.
This makes SEA an online marketing measure that results in a high click-through rate ("click-through rate", CTR for short) in a very short time and can thus significantly increase the probability of a conversion.
How successful your advertising campaign is also depends on the visibility of your ads in the organic SERPs. Google structures the positions of ads on the basis of an auction that is only partially transparent (the "ad auction").

This auction runs in the background with every search carried out. It determines which advertisements the searcher gets to see and cannot be completely influenced by the advertiser via the keyword bid (more on this below ).

However, the most important criteria are known that determine where in the SERPs your AdWords or Bing advertising is placed. At Google, for example, the CTR, the relevance of the keywords and the quality of the landing page play a decisive role.

With its quality factors, the search engine giant ensures that users are only presented with advertisements that are highly likely to provide the information they want.

That is why it is extremely important that your ads lead to landing pages that are characterized by simple navigation, fast loading times and thematically appropriate content with real added value. This means that the success of an SEA campaign can even be significantly influenced by the sensible addition of search engine optimization.

The usual form of billing (also: "payment model") for online campaigns is called "Pay-per-Click Marketing" (PPC) .

With PPC, you only pay SEA providers when a user actually clicks on your ad. Costs only arise when the adverts that are placed lead to the desired result. Because of this, PPC is sometimes referred to as "click compensation" or "cost-per-click" (CPC).
Google Ads (formerly AdWords) – by far the most popular platform for Internet advertising
With a market share of over 90 percent, the Google AdWords service has become the undisputed most relevant provider of online advertising.
In the meantime, however, you have to be careful when talking about "Google AdWords". After 18 years of success, Google has re-bundled its advertising tools Google AdSense, Shopping and AdWords: Since July 2018, these services have only officially been known under the name Google Ads !
Through this merger, Google ensures more transparency, control and efficiency in the design of advertisements for different sales channels.
The new name "Google Ads" and the associated revised trademark are also intended to emphasize that advertising on Google means more than just text-based search ads.
Whether you want to advertise via the search engine, display ads , YouTube, Google Play or via mobile apps : Google Ads makes it easier for advertisers on a wide variety of online channels to address precisely those out of a billion Google users who are looking for their content.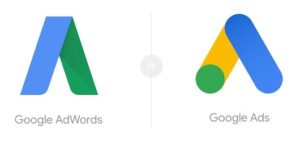 Despite name changes: The individual campaign types have not fundamentally changed. The decisive factors that influence the positioning of the ads have also been retained with the merger of the platforms.
For example, the following still applies to text-based ads in the SERPs: the higher the quality of the landing page, the click-through rate and the relevance of the keywords, the higher the position. In the same way, a channel like the Google Display Network is still primarily suitable for improving brand visibility via industry or niche publishers.
A Google SEA tool was then added: With the campaign type "Smart Campaigns" , Google wants to make it easier for smaller companies to get started with online advertising. The creation of advertisements should be even faster and easier with Smart Campaigns.
Advertising on the Internet – Basic Strategies
The competition on the web is fierce, and it is no longer enough to just focus on one channel when it comes to online marketing.
A modern marketing strategy is holistic and takes several types of campaigns into account. To find out which types of search ads are best for your project, you need to know your target audience and precisely define your goals.
You will only be able to make a meaningful selection of methods if you have a thorough understanding of your marketing goals and what the situation is like in the online search market.
In advance you should therefore answer questions such as:
Who

 exactly do I want to address?

Which 

catchment area

 do I have – do I position myself locally, regionally or even internationally?

At what 

times of the day

 is the chance of conversion highest?

Should my ads appear more often on 

desktop or mobile

 devices? Or even on tablets?

My specific 

marketing goal? 

Do I want to increase the popularity ("brand visibility") in general or draw users' attention directly to a certain product?

What kind of 

conversions

 do I need? Do you ultimately want to increase purchases, recommendations or newsletter registrations?

Do I also want to maintain or win back the interest of former website visitors through dynamic 

remarketing

 with AdWords?
With the help of analysis tools such as Google Analytics and Google Search Console , you can draw conclusions about how visitors interact with your website and the search queries with which they became aware of your content. This is valuable information on the basis of which you can create and place target group-specific Bing, Yahoo! and Google ads.
With regard to search engine advertising, the following key success indicators are decisive:
demographic data (gender, age, origin, etc.)

Device usage information

Ad clicks in relation to ad impressions ("Impression": An ad appears on a user's screen)

Session Duration and Time on Site

Fulfilled conversions or single goals (goals)


Once you've generated clicks, you also have insightful metrics. So use diagnostic tools to ensure that your pages always offer exactly the content that your visitors react to positively. This is how leads ultimately become real customers.
Newcomers to SEA sometimes believe that ad impression is secured if you only provide enough ad spend. But it's not that easy! We would like to briefly illustrate this using the example of Google Ads.
Which ad appears where in the search results (your "ad rank") depends on the following factors for Google Ads:
bid

objective relevance (i.e. the ad key corresponds to the search input)

Validity (e.g. compliance with quality guidelines or appropriate regional allocation)

expected CTR (based on the previous CTR)

Ad

 extensions (e.g. additional sitelinks, local information or structured data)

Quality Score
The Google Ads Quality Score deserves special attention . This rating relates to both the ad and the landing page and can be up to 10 points. Google expressly emphasizes that ads with a high quality score have a better chance of getting impressions than those for which only high amounts are offered.
In other words: the higher the quality score of your ads, the cheaper the individual prices of ad clicks. It is therefore worthwhile to comprehensively optimize ad headings and descriptions as well as your own landing pages right from the start.
This is how it works:
Google Ad Rank and Quality Score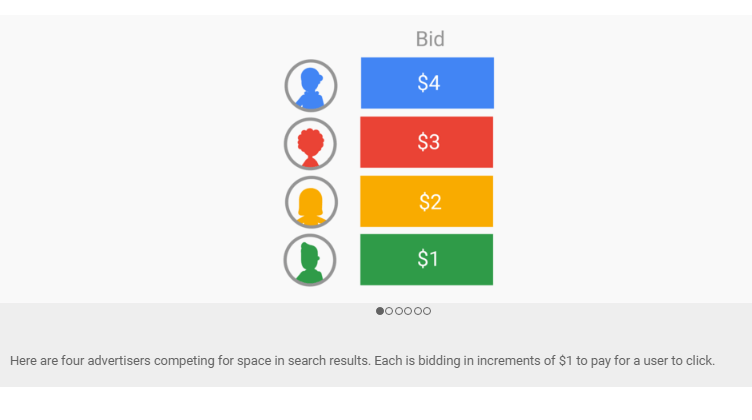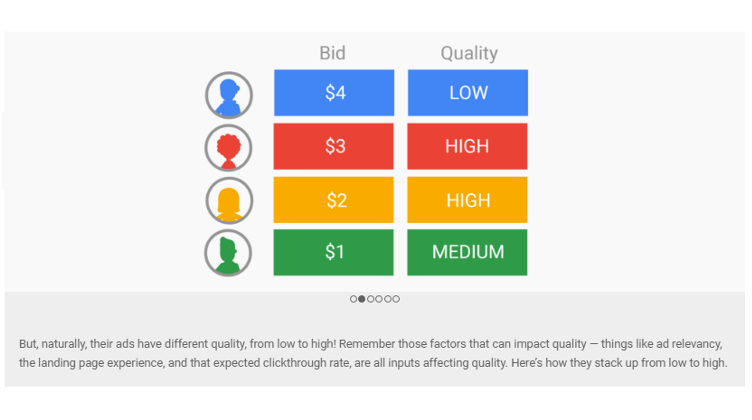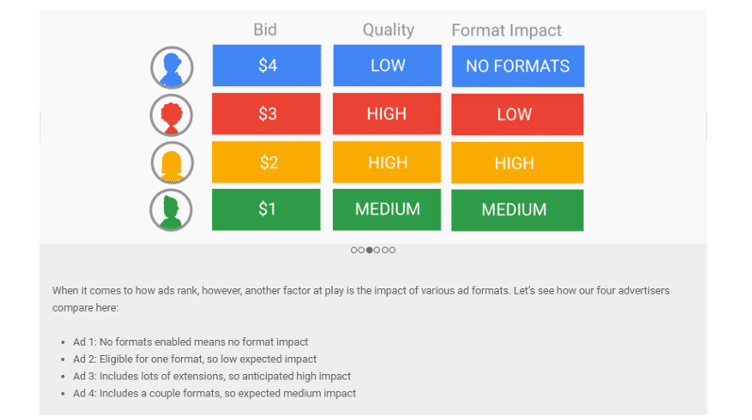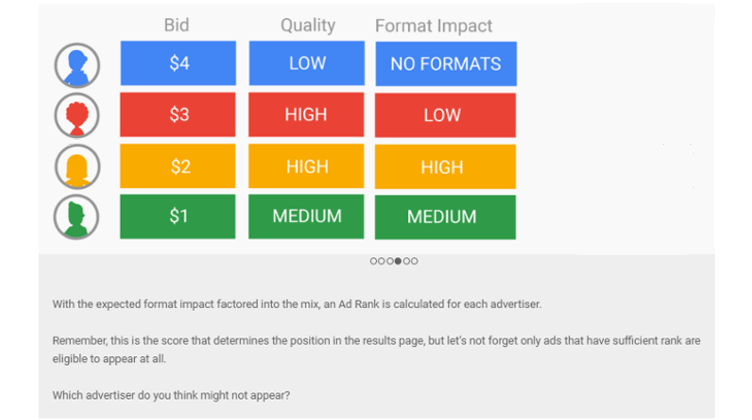 Now you know that a high Quality Score is important and that it depends in part on the quality of your landing page. So it is desirable to have perfect landing pages for your ads.
But what is the "perfect landing page" according to SEA standards?
The landing page is relevant, useful and distinctive.

In terms of content, it is as precise as necessary.

It explains precisely and immediately what it is all about.

The visitor learns from her what advantages await him.

When she asks for data, she clearly explains why she is doing this.

It is clear and has unmistakable call-to-actions.

It is fast, mobile-friendly and aesthetically appealing on top of that!


If your landing page meets all of these criteria, nothing should stand in the way of a high quality score. Very easily! Or? If you have the feeling that search engine advertising is astonishingly complex and time-consuming, our next tip might be right for you.
Rely on professional support
As I said: since online marketing is a dynamic field, it is advisable to check advertisements again and again based on user-relevant data and to adjust them if necessary. It is often helpful to place this complex task in the hands of an experienced online marketing agency like SPOTLIGHTSEO, which is certified as a Google Premier Partner in India.
As a specialized SEA agency , you are happy to support you in developing SEA marketing strategies and combining them appropriately with landing page optimization (both SEO and CRO ). In this way you can reach your target group optimally and fully comply with your set budget!
Digital advertising

depending on your budget – solutions for every size

If you have followed us this far, you now know the answer to the question "What is and does Google AdWords really do?" With a sophisticated SEA strategy, you can address potential customers directly and effectively avoid wastage.

But is advertising on Google and Co. possible for every budget? Usually yes! Because with most providers, the maximum budget that you want to invest in your advertising campaign per day can be flexibly scaled.

Google, for example, is based on your daily and monthly budget and automatically switches off your ads as soon as the latter is used up. So you always have full control over your finances.

And since the ad position depends not only on the click price but also on the quality, SEA is interesting for all company sizes. Because with extraordinarily high quality of the ad and target URL, just as good visibility is possible even with a low budget.

Let us advise you in detail which options SEA has in store for your business and advertising budget. Thanks to their experience and the associated specialist knowledge, our Google AdWords experts know exactly how you, too, can advance your online business with SEA.

Our initial consultation is free and non-binding – we look forward to your inquiry!
Social Advertising Projects
Successful PPC Remarketings